The Integration Station meets Innovation - Bridges SI leverages a state-of-the-art integration space to save customers valuable time and money.
A key aspect of Bridges SI's capabilities is in-house integration. The ability to pre-fabricate racks and test equipment internally, prior to arriving to a client site, is crucial to a smooth installation process. 'Pre-fab' gives us the ability to efficiently prepare AV equipment with all the required tools and resources at the technician's fingertips. By handling this portion of the project in-house, clients are saved valuable time and money by reducing impact and downtime on-site.
Bridges SI has constructed a very unique integration area, installing 1,200 sq. ft. of raised flooring, provided by Irvine Access Floors. This area is center pieced by two 7' x 4' hydraulic lifts, which are sunk into the ground and flush with the raised flooring. These lifts rise up to three feet, and allow the technicians to more easily and quickly integrate equipment. They are qualified to host any size Middle Atlantic rack, from a tall 44 unit rack to a wide 3-bay credenza.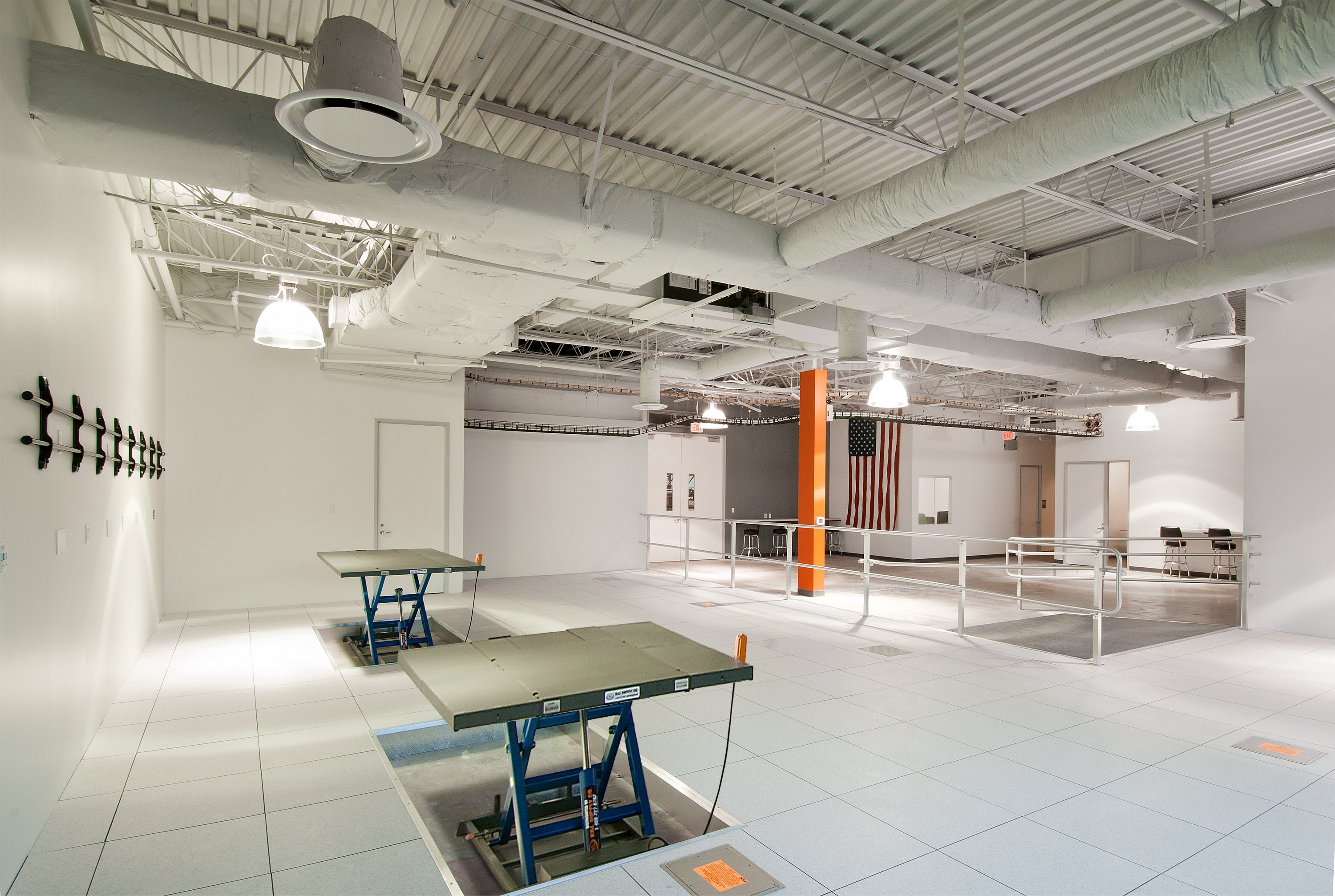 Additionally, there is a wall which hosts four extra-large static mounting units supplied by one of Bridges SI's premier mount providers, Chief Manufacturing. These mounts are connected in a series measuring 20' long, giving technicians the ability to test any size monitor along with the rack they are building for that specific project. This allows programming to pre-emptively implement and test the control commands and other features in conjunction with the integration team, rather than using that valuable time at client site. Testing the equipment in-house also makes it possible to detect any defective electronics and get those issues resolved as soon as possible.
The integration area also features a soldering station, complete with a cork work surface; as well as a drill press, ban saw, and bench grinder within arm's reach. A 10' wide ramp provides access to roll all equipment to the work area with ease.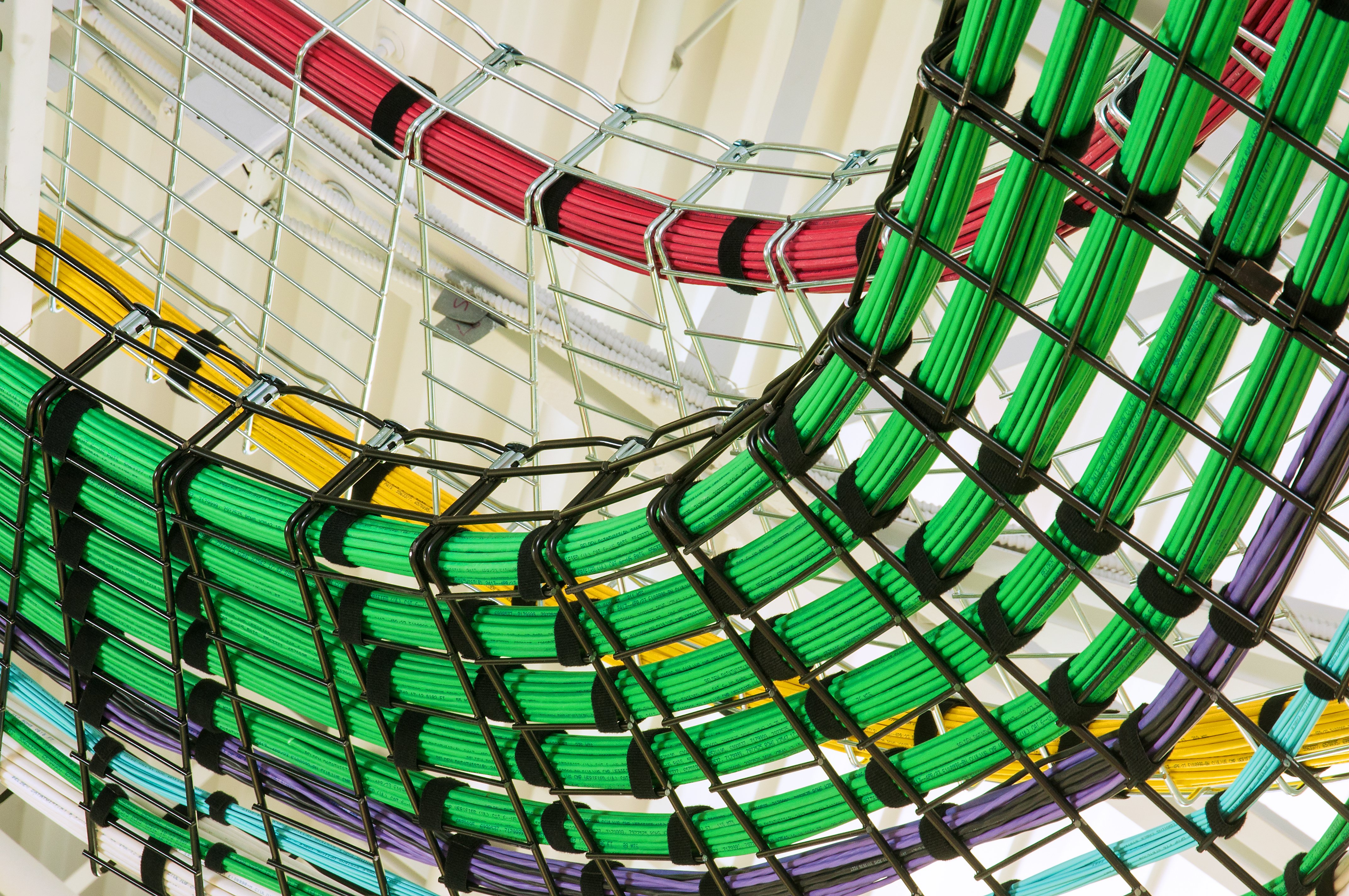 The finishing touch in this area is the exposed structured/secure cabling. This shows how we separate classified and unclassified cable runs for secure government and commercial facilities. A lot of customers don't get to see this with their own eyes, and are not aware of the physical separation required to meet security regulations and information assurance standards.
All of these elements in conjunction create substantial cost savings and project efficiency for Bridges SI and its clients. It is also an area that technicians look forward to spending their time working in.
"Having a dedicated internal work space makes for an organized, multi-functional environment just for us technicians. Being able to have our equipment prepared and labeled prior to arriving at the customers site makes a world of a difference."
- Brad Gardner (Technician II)
We're all excited about the changes to our workplace and we look forward to the long-term high quality support our headquarters will facilitate for our customers. As always, we welcome you to come on over and take a tour of the Bridges SI facility. To do so, just fill out this quick form. Stay tuned for future posts on more of the innovative environments we're building!
Additional References
- For more information on Irvine Access Floors, check out www.irvineaccessfloors.com
- For more information on Chief Manufacturing, check out www.chiefmfg.com
- For more information on Middle Atlantic Products, check out www.middleatlantic.com